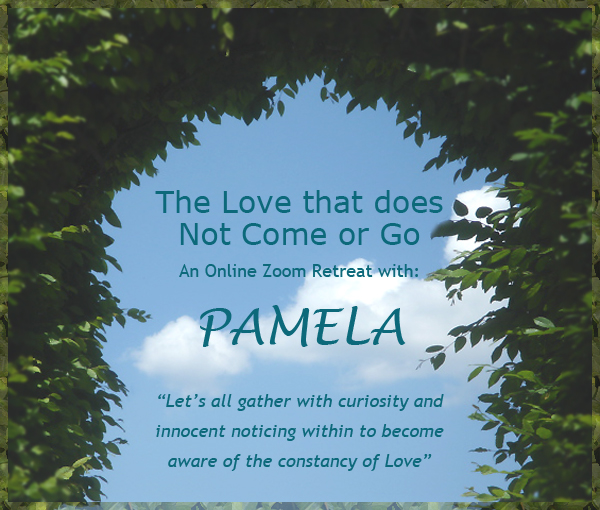 The Love That Does Not Come or Go
It's Here and Not What You Imagine!
Join Pamela and Open Circle Host Sara Kasprowicz for an Online Zoom Retreat
November 19, 22, 26, 29 (Tuesdays and Fridays)
Let's all gather with curiosity and innocent noticing within to become aware of the constancy of Love. Love is everywhere present, yet overlooked as it does not move! It adores being seen and unseen. Invoked by friendship, devotion and gratitude, it blooms revealing itself as that which holds everything and animates. So many names it has, including ours, it is tender and strong, fierce and subtle. Wise and still curious. Intimate and reserved, all-knowing and empty of the past, though it has seen it all.
To live as this is relaxing. Life, serene, strong and satisfied!
Nothing is required to return to this our naturalness, but it likes when Awareness notices and feeds it! Shall we?
Pamela evokes through dialogue, inquiry and her very presence the qualities of unconditional love and radical acceptance. She is celebrated for her ability to open the heart and create a space in which long-cherished struggles and notions about one's identity relax. Featured in the book Ordinary Women, Extraordinary Wisdom, Pamela is at her best in heart-felt dialogue, so please bring your questions!
This Retreat consists of:
4 live and interactive 2-hour Satsangs with Pamela in Zoom (a total of 8 hours)

Audio and video recordings of all meetings (we only record Pamela's video and Questioner's audio)
We meet via Zoom – a platform allowing for live video conversations, which means you will have the opportunity to see/hear and be seen/heard by Pamela and other participants. You will also have the option to switch your camera off and remain invisible.